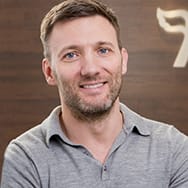 Roan Lavery
CEO, Co-founder
You've got the skills but are you getting the bills? With our new invoice payment facility you can go forth, get paid faster and let the good times roll my friend.
Being able to let clients pay invoices online has been one of our most popular feature requests ever, so we're not going to disappoint you with this.
Our new payment facility supports 2 payment processors out of the box: PayPal and GoCardless.
GoCardless?
You're probably well aware of PayPal, but GoCardless are a decidedly newer entrant to the payments space.
GoCardless works by taking direct debits from your clients bank account on a one-off or recurring basis. It's sponsored by the Royal Bank of Scotland and registered as a small Payments Institution with the FSA in the UK.
Of most interest are the fees: GoCardless charge only 1% of the transaction value. A tasty rate if we do say so ourselves. So how does it work?
Step 1: Get ready to accept payments
First of all, enable the payment processors. For GoCardless you do this through the Settings > GoCardless page. If you've never used GoCardless before, you can sign up as you go through the set up process.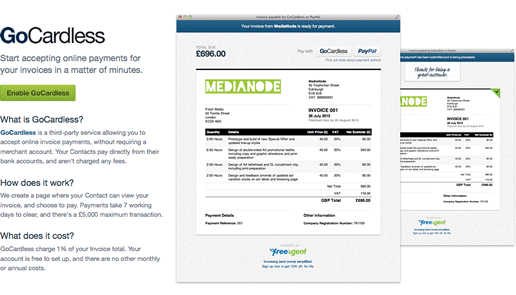 For PayPal, just add your PayPal bank account in the Banking area, if you haven't already.
Step 2: Create the invoice
When you create an Invoice you'll now see the option to accept online payments via PayPal or GoCardless. Select the appropriate one and create the invoice as normal.
When you email this to your client, include the new [online_payment_link] tag in the body of the email.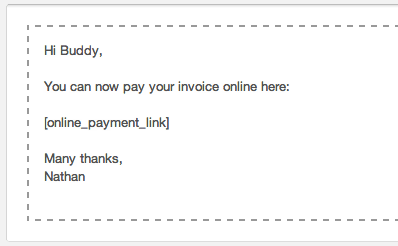 And your work is done! Sit back and wait for the cash-money to roll in like the business legend you are.
Step 3: Profit!
When your client receives the email, they select the payment link and will see your invoice, along with the option to pay by GoCardless or PayPal.
Payments made via GoCardless can take up to 7 days to appear in your account, but we'll show you that the invoice is being processed in your account, and stop any late payment reminders going out in the mean time.
The Knowledge Base has more information about the GoCardless and PayPal integration.
We hope you're as excited about this new feature as we are. Now go make those fat stacks!
US Sole Proprietor Tax Timeline
Everyone likes surprises: a free upgrade to business class, finding $5 in an old jacket pocket, an unexpected act of kindness from a stranger - it's the little things. Suddenly remembering about that last-minute income tax return? Not so much.
Luckily these nasty surprises will be a thing of the past as we launch the first in a series of useful new features for US Sole Proprietors.
With the new Tax Timeline on the Overview page , you can see all important upcoming tax dates, and plan accordingly. No more nasty surprises.
Better Overview customisation
At the risk of getting you all hot and bothered, we're not done yet. While the response to the new interface has been extremely positive (phew!) there's been a clear demand for better customisation of the Overview screen.
To that end, you can now drag tabs between panels on the Overview page , so if you want to see your mini P & L next to the Tax Timeline you can.
Changes to email tags
Last one, promise. We've changed the way email tags are handled when sending out invoice/estimate emails.
If you now set "[contact_billing_email],[contact_email]" in the TO: field the email will go out assuming one of the emails is present for a contact. Previously, we were more draconian about it, which totally isn't like us.
We've also added a new super smart [billing_or_contact_email] tag which will use the billing email if present or fall back to the contact email if no billing email is set.
Ok, that's all I got,
Roan & The Good Time Gang at FreeAgent.