Fan favourites: the FreeAgent features users recommend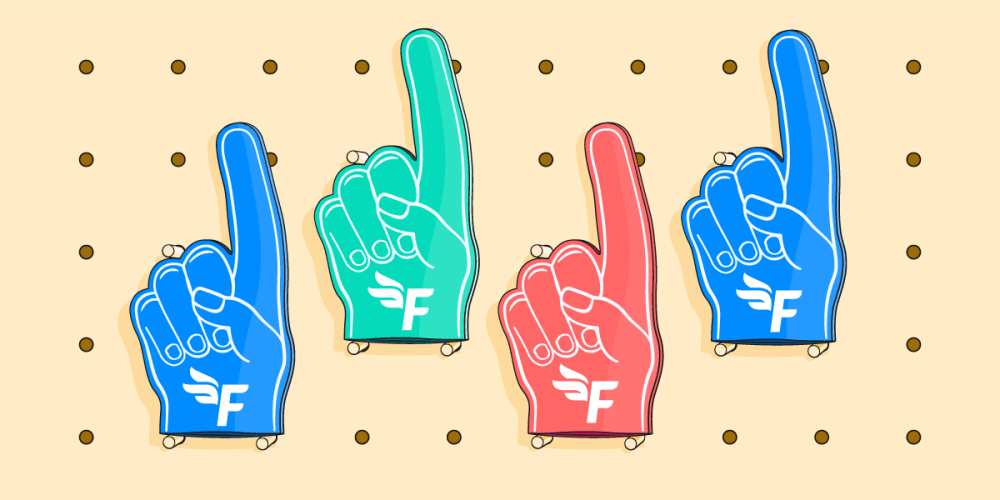 Having the right tools to hand can help you bring your A game as a small business owner - and easy-to-use accounting software could be one of them. But don't just take our word for it, here are four FreeAgent features recommended by our users and a bit about how they help their businesses (and could maybe help yours too).
1. Next level invoicing
"FreeAgent is the real deal. This has given me back precious time as it's so easy to follow. I've started sending my invoices through the FreeAgent system - so easy to use and can categorise regularly through the year. Whoever thought of this is genius - it's brilliant!" - Delroy
You can create and send invoices in a few clicks with FreeAgent's invoicing. Earlier this year we also released new functionality to make invoices even more customisable. A handy traffic light system shows you whether invoices are pending, overdue and paid. Meanwhile, integrations with online payment providers help you get paid faster. And, if you struggle with late payers, FreeAgent can even automatically chase overdue invoices for you. 
2. Business on the go
"I've been a customer for six years, and always recommend it to others. Really easy to use while you're on the move with the app, intuitive and 'guesses' the cost streams to which expenses and payments should be allocated." - H
Life moves fast - especially when you're running a business. The FreeAgent mobile app helps you keep on top of your finances from anywhere. You can capture and record receipts and bills, create and send estimates and invoices, explain bank transactions, manage your business contacts - the list goes on. Nail the daily admin on the go to save yourself time and avoid playing catch-up.
3. Effortless bank reconciliation
"Finally started using FreeAgent recently and it's brilliant! No more manual reconciliation of my bank account to invoices paid, FA does it automatically saving so much time." - Adam
Bank reconciliation - making sure that the balance on your bank statement matches the bank balance in your accounts - is a must to keep your accounts healthy. But traditional bank reconciliation can be a gruelling task. Luckily FreeAgent's banking features (including some savvy AI-powered smart categorisation) will check that the balance on your bank statement matches the bank balance in your FreeAgent accounts - so that's one less thing for you to worry about.   
4. Tax confidence
"Software that takes the sweat out of running my sole trader business. The software and support this company offers is brilliant. As a startup it has proved easy and efficient to use - and to send in completed HMRC tax returns, easy peasey!" - Scott
Throughout the year, FreeAgent is working away in the background to calculate your tax position. Avoid surprise tax bills with a real-time view of how much you owe and when it's time to file, you can review a detailed breakdown of your tax position and in many cases you'll be able to submit your Self Assessment, VAT returns, Final Accounts and Corporation Tax directly to HMRC from within FreeAgent. 
You'll also never miss another tax deadline with FreeAgent's unique Tax Timeline - a live update of your tax calculation and a clear view of what's done and what's due.
A built-in bonus: first-class support
We're proud of our fantastic Support team, but don't just take our word for it. Here are a few things our users had to say about them: 
"I was very hesitant about switching from manual, but the team has been so helpful in guiding me and answering any of my queries. The customer service team is brilliant! There's no long waits to get through to a human being, everyone is patient, caring and friendly and they all do their best to help. I'd definitely recommend FreeAgent." - Sophia
"Support is absolutely 100% first class. Could not be better. Calls are answered immediately and whoever you speak to addresses and resolves the query in a competent and qualitative manner. Amazing." - Jeff
So which is your fave FreeAgent feature? Give us a shout on Twitter, we'd love to know. Not using FreeAgent yet? Give it a go with a 30-day free trial today - we can't wait to hear what you think.