Accountant case study - Sterling Rees
Michaela Rees founded Sterling Rees in 2006 as a means of maintaining a flexible lifestyle after her daughter was born. Since then, Michaela has grown Sterling Rees into one of the most reputable accountancy firms in South Wales. Michaela caught up with FreeAgent to tell us all about her firm and its superhero-inspired mission to "fight tax confusion".
"Sterling Rees has come a long way since 2006. Back then, we were in a pokey office above a printing company. We used a hand-me-down dining table in our meeting room as we couldn't afford furniture. We're a lot bigger now. We've got a large office with on-site parking and a team to work with - but we've still kept the dining room table!"
Providing a superhero service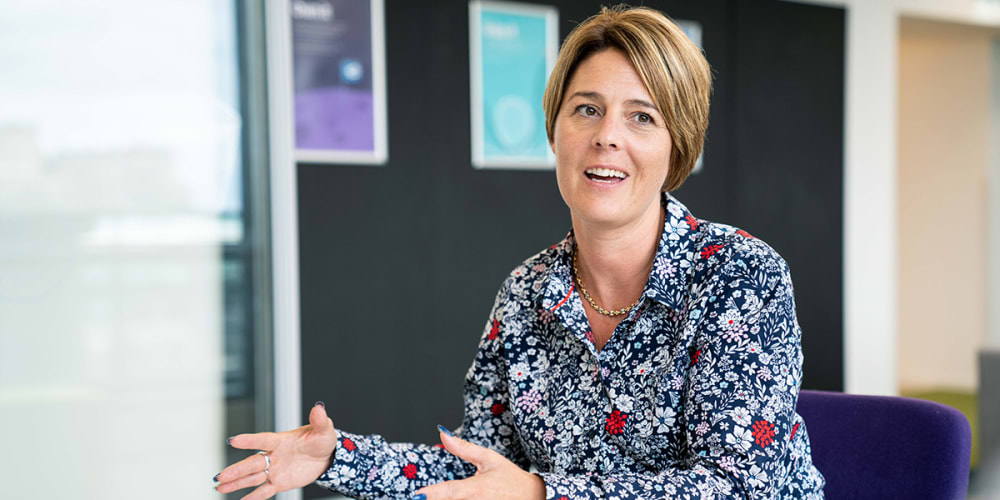 "If you look at our website, you'll see it's covered in pictures of caped superheroes. This reflects who we are at Sterling Rees: we aspire to provide a superhero service to our clients. And when you're helping people with something as important to them as their business, you really do have an opportunity to change someone's life for the better."
"A big part of my career was servicing high-end clients in wealth management. I've taken forward a lot of the customer service lessons from that industry and applied them to how we run Sterling Rees. We really get to know our clients: we get to know their businesses, we get to know them as people, we remember details about their families and hobbies and we always remember how they like their tea and coffee!"
"We want our clients to feel like they're our only clients. When they ring up, they speak to someone they know, who knows the financial side of their business inside out. This is something I'm adamant that we keep as the practice grows."
The power of advisory services
"For me, the real value of accountants is in the advisory services we provide. Anyone can pull together a set of accounts but when your business is in crisis or the economy is slowing down, the tailored advice we provide can give businesses the edge."
"I always drill in the importance of advisory services to new team members at Sterling Rees. I tell them that they're not just accountants; they're detectives who need to get out their magnifying glass and figure out exactly what's going wrong with a business! Once the detective work is done, they can start giving out plans and advice. I strongly believe that every client is different, so each plan has to be carefully tailored to their lifestyle, attitude to risk and future plans."
Focusing on the trailblazers
"These advisory services work particularly well for our niche group of clients. Unlike other practices, our target client isn't defined by size or industry but rather by attitude. These "trailblazers", as I like to call them, are people who have a strong emphasis on developing and growing their businesses. They could be looking to raise money from investors, win grant funding or get business loans from the bank. When it comes to working with an accountant, trailblazers really value problem-solving prowess and we're happy to provide it! We have fantastic working relationships with these ambitious business owners, who constantly refer like-minded new clients to us."
Accounting software that clients can't get wrong
"One of the big things that has helped our client relationships is using FreeAgent. What I like about it is that it's just so simple to use. It's really intuitive and requires no accounting knowledge on the client's part."
"One of the reasons I always recommend FreeAgent over its competitors is because it leaves far less room for clients to mess up their accounts! With other software, you need a good understanding of double-entry bookkeeping - it's just too complicated for most small businesses to use."
"When I'm getting a client onto FreeAgent, the first thing I'll often show them is the FreeAgent mobile app. I'll show them just how easy it is to log in and I'll get them to start snapping receipts from their phone to show them that they no longer need to store huge piles of receipts in a shoebox or on their van dashboard!"
The golden triangle: Sterling Rees, NatWest and FreeAgent
"We've always worked closely with NatWest, so when it was announced that Royal Bank of Scotland Group had acquired FreeAgent and were offering free licenses with NatWest and Royal Bank of Scotland business banking current accounts, it was like everything had come together. I like to call it the golden triangle of Sterling Rees, NatWest and FreeAgent."
"From a service perspective, this works really well. A client will often hear about us from one of the NatWest Business Growth Enablers, who will then come to an event we host with the bank, where I will run through the main features and benefits of FreeAgent. If the event attendee likes it, I can sign them up as a client and set them up with a free FreeAgent license, which has a bank feed linked directly to their business banking current account. It's all pretty seamless!"
Interested in taking advantage of FreeAgent's relationship with NatWest, like Sterling Rees? Find out how your practice can get free FreeAgent licences for clients who have business banking accounts with NatWest or Royal Bank of Scotland (optional add-ons may be chargeable).
Find out more about Sterling Rees here.
Want to help your clients understand their numbers at a glance?