Getting accredited is easy
Our software is straightforward, so we keep accreditation simple. Just learn in whatever way works for you, then pass the open book exam. That's it.
Start learning
There are two ways to learn:
At your own pace
Learn online via webinar, short video or PDF manual then take the open-book exam when you're ready. You'll know immediately if you've passed and your account manager will follow up with your certificate in the mail.
At an accreditation event
We regularly host half or full day accreditation events around the UK, where you can learn from experts, network with other professionals, take the accreditation exam and receive your framed certificate on the day. Speak to your account manager to find out more.
Why become a FreeAgent accredited practitioner?
FreeAgent accreditation is valuable for you and your practice and it's free!
We take pride in how easy our software is to use but your clients will still look to you for guidance. Being FreeAgent accredited helps you make the most of those valuable client moments and feel confident in your software knowledge.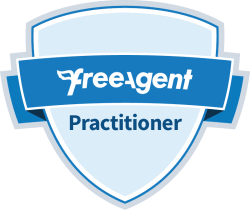 Getting accredited with FreeAgent creates fantastic opportunities for your practice and for you:
Your accreditation
Your accreditation certificate is in your name so you can take it with you if you change practices in the future. If you're the first person in your practice to become accredited, your practice will also benefit by becoming a FreeAgent accredited practice.
Your clients
Your clients will be reassured that you've taken the time to get to know FreeAgent and understand the software. The accreditation process takes you through the basics and gives you the knowledge you need to start using FreeAgent confidently.
What do I get once I'm accredited?
A personalised accreditation certificate and window sticker.
Full access to the FreeAgent Practice Portal with a wealth of resources including thought leadership, insights, industry news and content to share with your clients.
Free licences for clients who have their business account with NatWest, Royal Bank of Scotland, Ulster Bank NI or Mettle, as long as they retain their account.
Once you've added your first client, you'll be a fully fledged member of the FreeAgent Partner Programme unlocking a whole range of benefits including a dedicated account manager and a listing on the FreeAgent Accountant Directory.
Continued learning and professional development
We're dedicated to providing the resources you need to continue to grow and learn, including exclusive webinars and events, many of which count towards CPD.
Help us improve FreeAgent
As a FreeAgent partner we want to hear from you on how we can continue to improve and develop our software for accountants, bookkeepers and our end users.
Ready to get started?
Getting accredited is easy. If you're new to FreeAgent, start by learning the FreeAgent Essentials. The course takes around an hour to complete and there are a range of resources available so you can learn at your own pace. When you're ready, you can take the exam and if you pass, you'll become a FreeAgent accredited practitioner. If you're an experienced FreeAgent partner, you can keep your accreditation up to date by taking the Accreditation 2021 module.
Start learning