FreeAgent Essentials
Learn the FreeAgent basics and feel confident about adding clients to your Practice Dashboard, setting up and managing their accounts and helping them understand how to use the software.
Learn
Learn in the way that suits you best by attending a webinar, watching the webinar recordings or downloading our easy-to-follow manual.

FreeAgent's learning materials and webinars are likely to count towards your CPD accreditation. Check with your industry body for more information.
Sit the exam
When you're ready, sit the open book exam. If you don't pass first time, you can always try again.
Next steps
When you pass the exam, we'll mail out your FreeAgent accreditation certificate and you'll be an officially accredited FreeAgent partner.

Become accredited
If you're new to FreeAgent, the learning materials in this module will give you everything you need to know to get accredited by passing the Essentials exam. If you're an experienced FreeAgent partner, you can keep your accreditation up to date by taking our yearly accreditation module.
Instructor-led learning
Join us for an in-person session taking you through everything you need to know to get started with FreeAgent and begin adding clients.
Self-paced learning
Short videos to take you through the FreeAgent essentials, at your own pace.
Learning manual
If you prefer to learn from a more traditional manual, we've got you covered! Just download our PDF and print or read on screen.
You'll learn all the same information covered in our videos and webinar and you can have the manual next to you when you take our open book exam for extra reassurance.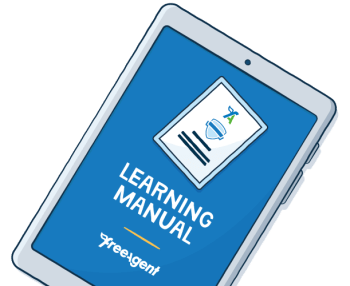 Ready to take the exam?
You can sit the open book exam anytime. If you don't pass first time, you can always try again.
Take exam