The wellbeing benefits of working at FreeAgent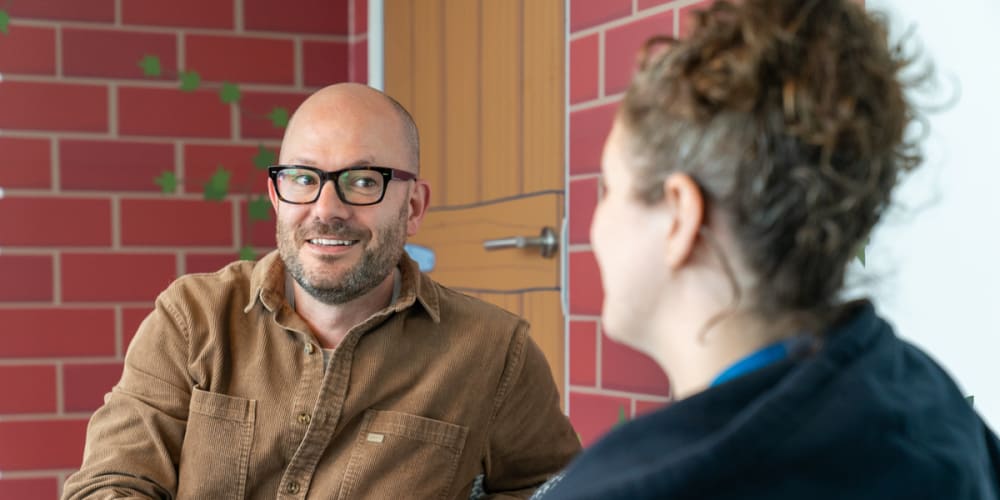 There's much more to work than just a pay cheque - people want to know how else their company will support them. 
Right from the start, our founders were uncompromising on their vision of creating the kind of workplace they'd always wanted for themselves: somewhere you can be yourself and do your best work. 
It's important to us that you have a great work-life balance and your wellbeing is part of this. At FreeAgent we have invested in a package of benefits to support you and your family's physical health and peace of mind. Having a supportive environment where you can be your best self is part of what makes FreeAgent a great place to work. 
A quick tour of our benefits
Health benefits
All our employees are given private medical insurance, however many people may not realise the full scope of this benefit. As well as providing help with cover for physical health problems, it also includes mental health support. People can speak to counsellors without needing to wait for a referral from their GP and after a quick assessment over the phone they'll get a suggestion of the best support available for them.
We also have access to the Employee Assistance Programme - essentially a one-stop-shop for any wellbeing concerns. You can choose how to use this service - either take a look at the resources on their website, or call their confidential phone number. Amongst other options, they might offer you up to four face-to-face counselling sessions, plus information on how to get continued support. Our People team can also refer you for a wellbeing check-in for one-to-one support with a wellbeing expert.
You can also get virtual appointments with a private GP, who can talk to you by phone or video call. And if you are off ill, FreeAgent provides enhanced sick pay so that you have peace of mind while you recover.
We've made sure all of these can be accessed confidentially. Of course, if you do want to chat about your wellbeing within FreeAgent, you can talk to your manager, our People team or one of our mental health first aiders. 
Wellbeing benefits
Wellbeing benefits shouldn't just be about treating problems, but also about helping you to keep well. To that end, our benefits include ways to look after yourself all the time.
Our health cash plan is designed to help you pay for treatments that'll improve and maintain your overall wellbeing. Georgina Allan, our Senior People Consultant said: "I use it all the time, it's like an expenses plan for my wellbeing. I've used it for reflexology and chiropractic treatments."
You can get money towards a range of complementary or alternative treatments through the cash plan. It can even cover routine dentist and optician fees, so you can get the treatments you need without worrying about the financial side.
Work-life balance is one of our priorities and that's why Summer Fridays have been such a success at FreeAgent over the last two years. In July and August, we all switch to a four-day working week, with most people having Fridays off every week. The feedback we heard was fantastic, with employees saying, "I felt so much more productive on the days that I did work, and my mental health and wellbeing improved massively," and, "I got the chance to slow down and take more time for myself."
Mindfulness is another way we can slow down and take some space from our busy schedules, whether we are in the office or working remotely. As well as weekly mindfulness sessions run in-house, the mProve YOURSELF app, which is free with our health cash plan, has excellent guided sessions on mindfulness and meditation.
We want it to be easy to take quiet time for yourself when you're in the office, as well as working from home. The Den is our solution - a cosy, relaxed space where anyone can go for a peaceful break.
Sometimes it's nice to take some time to exercise with colleagues, whether it's a walk along the canal, going for a short ride on our FreeAgent bikes or attending a group yoga class with amazing views across the city.
Our culture
One way we try to make people feel comfortable at FreeAgent is our openness. Talking about our mental and physical health in the office is a positive, and we create lots of opportunities to share anything that's on your mind. 
Open conversations
At Town Hall, our weekly full-company meeting for announcements and updates, FreeAgent people regularly give talks on matters that impact them. People have volunteered to give talks about depression and anxiety, menopause, neurodiversity, and have shared other personal experiences.
These talks serve two important purposes. They raise awareness, reducing the stigma of talking about difficult subjects at work. They often have a practical purpose too, helping everyone in the company understand how to support the people we work with.
Kris Sawford, one of our Sales Managers, gave a talk last year on autism and neurodiversity. He said: "Town Hall felt like a great place to talk about some things I struggle with day to day because I knew there wouldn't be a negative response. Afterwards, I had a few people come to speak to me about their own neurodiverse journeys. The most important thing is that it helped someone." 
Support options
Our mental health first aiders are trained to provide mental health support. Just as you might go for first aid after a nasty fall, these volunteers are the first port of call if you're experiencing mental health challenges.
They can be identified by the flags on their desks in the office, or contacted through a dedicated Slack channel. Either way, they can talk you through your support options both within the company and externally, and send you helpful resources.
Our managers know wellbeing conversations are important and have tools at hand to include them in normal one-to-one meetings. If there's something worrying you - in or out of work - your manager is there to listen and potentially suggest resources. In 2022, we found that 94% of our employees agreed that their manager genuinely cares about their wellbeing (the remaining 6% responded neutrally).  
Come and join us!
All of these benefits are here to support our people and make FreeAgent a truly excellent place to work. This year, we're proud to have been shortlisted for two Women In Tech Employer awards - Best Employer for Benefits and Best Employer for Parental Support.
Discover our other benefits and check out our vacancies if you like what you see.